Indexed Directories

This feature is not available in Web Essentials.

From the Indexed Directories tab, the administrator can add directories to upload content from local server directory locations. To use this feature, the WebPro Indexer application must be installed on one of your servers or a dedicated Windows desktop and the domain account used to run this application must have the appropriate read/write/modify access to all directories.


Integration with SharePoint is also available as an added feature. For more information please contact your account manager.

Add a New Directory

1. Go to Content > Settings, select the Indexed Directories tab then Add New Directory. .

2. Select the type of directory: UNC/Web or Microsoft SharePoint.

UNC Directory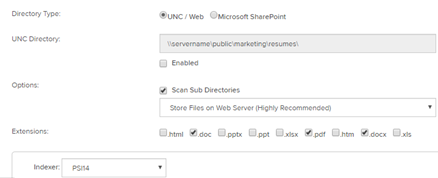 1. In the UNC Directory field, enter the full folder path for the location where the files reside. Do not use "mapped" network drive paths, use only the full UNC directory path. The following is an example:

\\servername\public\marketing\attachments\

2. Under Options, check the box next to Scan Sub Directories only if you would like to have all sub folders within the directory uploaded to PMAPS using the same attributes.

3. Under Options, it is highly recommended to leave the default setting as Store Files on Web Server (Highly Recommended). This option places a copy of the files on your hosted server for significantly faster retrieval. If the other option, Keep file in existing location, is used, every user with permission to view these documents must also have the appropriate read/write/modify access to that directory in order to access those files through PMAPS.

4. Select the indexer name used during configuration of the WebPro indexer application.

5 Select attributes appropriate to the files contained within the directory folder.

6. Click Save.

Microsoft SharePoint

1. Enter the SharePoint Url.

The following is only an example: http://sharepoint.proposalsoftware.com/

2. Enter the SharePoint Domain(many times this is not necessary depending on format of the URL.

3. Enter the SharePoint Login for the user account configured with access to the directories.

4. Enter the SharePoint Password for the SharePoint Login.

5 Select attributes appropriate to the files contained within the directory.

6. Click Refresh Lists.