The Global Attribute Changes features allows users to apply mass changes to one or more content records at once. To make global changes to Search records, follow the steps below.

1. From the main menu, navigate to Content > Home.


2. Narrow the results to records that need global changes and the click Global Attribute Changes button.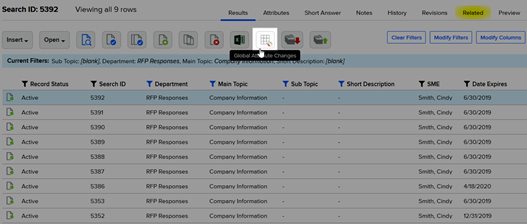 3. Make desired changes to the field values and when ready, click Apply.

Tips

Use the new [CLEAR VALUES] option to clear any then-existing values from a field within the selected records (available only for applicable field types.

Scroll up and down to reveal fields in other tabs.

4. Validate the number of files that will change, and then click OK. Click Cancel if you would like to revise the filters or changes.


5. Wait for the processing window to process all records before attempting to navigate away or close the window.


Tips

It may be necessary to remove or modify filters/sorting to reveal the changes.