Download/Checkout
Another option for updating content records is to check them out using the Download option and check them in using the Upload option. This option downloads a copy of each record as a separate document. This option is ideal if you want to entirely replace a document with another one (e.g., a PDF file that has a new version or a content record that has new branding). The downloaded document's file name is the Search ID number followed by the text in the Summary field (if any). To check in these documents, simply ensure you name the file the same file name as the original download.

1. Navigate to Content > Home.


2. Filter and/or search for the records to download, and then click the Download/Checkout button.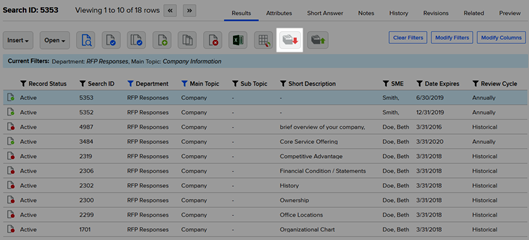 3. At the prompt, click OK to proceed.


4. Check the option Checkout Files For Editing, choose a folder to download the documents to, and then, click Download.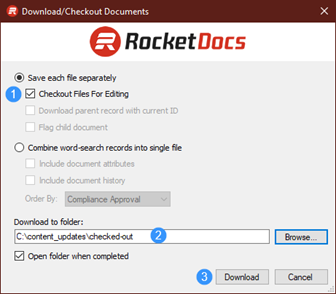 Upload Docs
1. Click the Upload Docs button.


3. Click Select Files….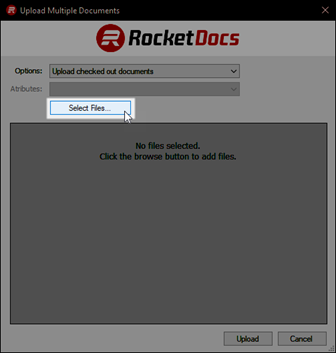 4. Select the records to check in (use the CTRL or SHIFT to choose multiple files at once), and then click Open.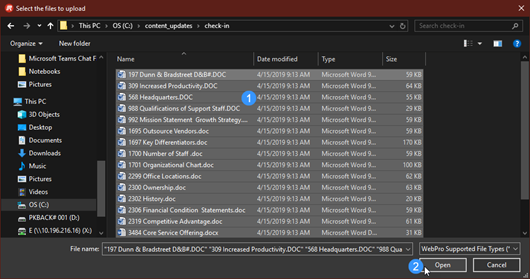 5. Wait for the files to load in the window, and then click the Upload button. The window will simply close when the process is complete.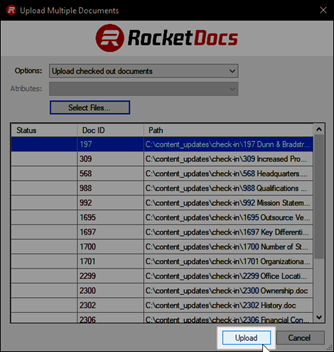 Tips

When using this feature to update branding, open the checked-out document, select all contents and copy into the new branding document. Then, apply any formatting changes. Close the original checked-out document and save the new file as the same name as the new version.

Before checking in updated records, filter for those records so that it's simple to update the expiration date for all records at once, if needed.