Indexed Directories are folder shares on your server that contain documents you'd like to store and search using ResponseFull. It enables one-way synchronization of documents from a folder share into a ResponseFull web application and continuously scans for permitted file types (.doc .docx .xls .xlsx .ppt .pptx .pdf). Indexed documents are read only and exempt from editing, deleting, and using compliance, meaning these activities must take place in the folder share. This requires that the Indexer application be installed, configured, and running on a local server. If you are interested in using this functionality, please contact your customer success manager or
submit a ticket
.
Add a Directory

1. From the main menu, choose Content then Settings.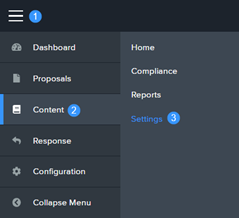 2. Click on Indexed Directories.


3. Click Add New Directory.

4. click the radio button UNC/Web.


5. Enter the UNC Directory for the location of the files. Do not use mapped network drives unless you'll be installing and running the indexer from that same computer. Leave the Enabled box checked. Note: once you have saved a new directory, the UNC Directory cannot be altered, and you'll have to delete and start over to make corrections.


6. To include sub-folders under the UNC Directory, check the Scan Sub Directories box.


7. Leave the option set to Store Files on Web Server (Highly Recommended). Note: if you elect to Keep file in existing location, any user that tries to view or download these files must also have access to that folder and it may take much longer to view/download these files.


8. Uncheck file type extensions to exclude those from indexing.


9. Select an Indexer. This is mandatory before you can save the new directory.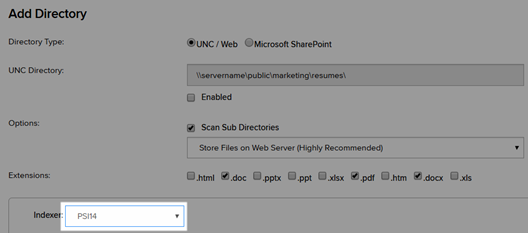 11. Select the attributes that will be applied to all files indexed from this directory, and then click Save.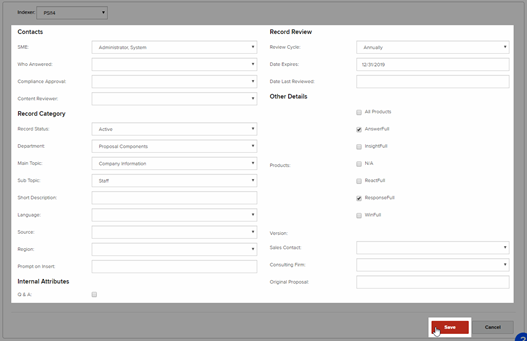 The final step is to go to the Configuration settings and edit the directory so that user(s) and/or group(s) have access. These instructions are in the Configuration user guide.