The creation of a form is a three-phase process:

1. Design—decide what will be included in the form.

2. Create—add the new form, including headings, help text, questions or definition statements, and content required to match questions/definition statements.

3. Assign—select the content records to be included in the form.

Design

The design stage is important because planning will save you time when it comes time to create the response form. The most effective way to design a form is to deconstruct a document that already exists. As you deconstruct the document, compose an outline that includes the following. We have provided a few examples below each for guidance.

Headings (sections) that make up the document:

Executive Summary

Product Information

Pricing

Questions or definition statements listed under the appropriate heading:

Would you like to include a cover letter?

Select the products to include:

Are you providing more than one pricing option?

Existing content records to include listed under the appropriate question/definition statement

List of existing record IDs to match questions/definitions statements

List of new content to add

Other content to include listed under the appropriate question/definition statement

Cover page

Table of contents

Disclaimer

Create
1. From the navigation menu, click Response.

2. From the secondary menu, select Forms.

3. Click the Create Form button.


4. In the Form Name field, enter the name of your form (this is what will display to end users so be appropriately descriptive).


5. From the Document Type field, select Word or PowerPoint.


6. Check the appropriate Permissions boxes to make this form available to end users. We recommend making available to "Administrator" only while in development and then adding "All Users" when it's ready to be used.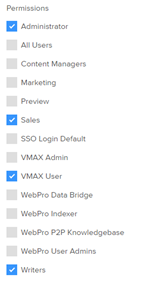 7. When finished, click the Next button.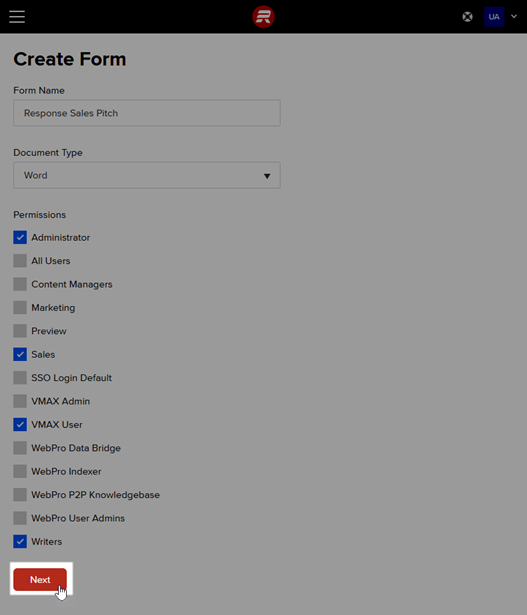 There are three tabs within each form.

The Questions tab displays all the form design elements and is where the outline of the form is designed.

The Records tab displays all the content records that will be included in the forms and is where the rules are applied for when and how content is added to the output file.

The Templates tab displays all available templates for form output files and is where templates can be set as the default output template.