These instructions apply only to Word dashboard documents where the Insert Full option was used. To update a search record based on changes made to a dashboard Word document, follow the steps below:

1. Click the Edit Proposal icon for the dashboard record.

2. From the Proposal Editor window toolbar, click the Show Options… icon and enable Show Bookmarks (Word Docs Only).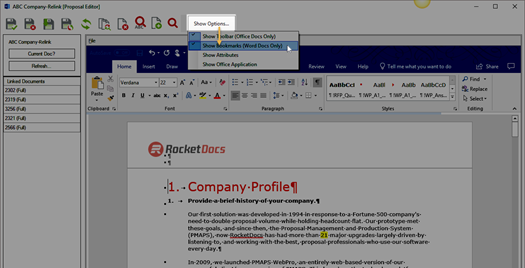 3. Click your cursor anywhere within the text to update, and then click the Current Doc? icon.

4. Under Linked Documents, click on the Search ID number to select it (it will turn yellow). Make note of the Search ID number.


5. Review the content and replace all client-specific content or word replacements with codes:

a. Delete the content that needs to be sanitized.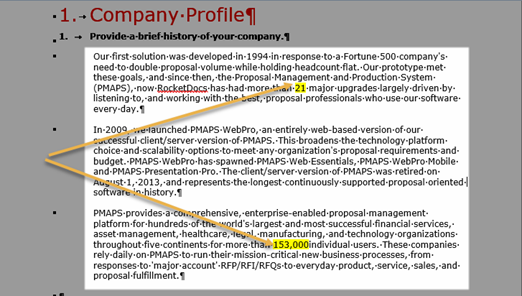 b. Click the Insert Word Replacements icon.


c. Select the appropriate word replacement and then click Insert.

d. Review the inserted code and apply any further style options, ensure spacing is correct, etc.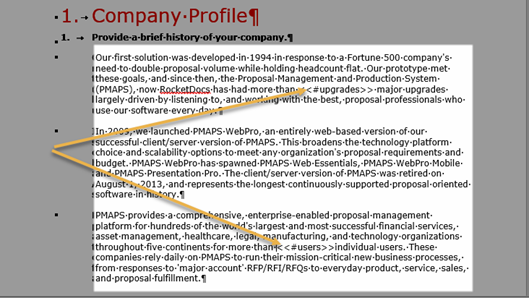 6. Copy the text to your clipboard.

7. From the main menu, click CONTENT.


8. Enter "id:" followed by the Search ID number (no spaces), and then click Search Files.


9. Click on Open then click the Edit Document icon.

10. Paste from your clipboard into the record in place of the existing text.

11. Click the Save Document icon and close the record.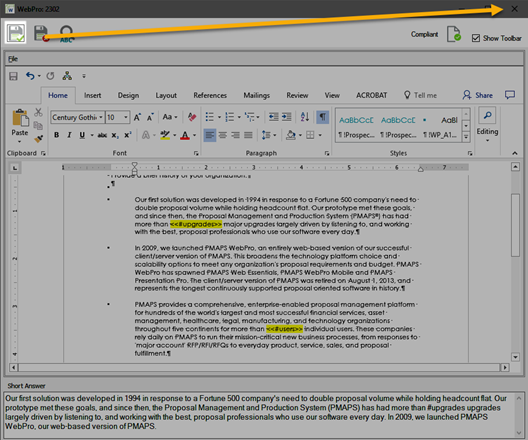 Delete Proposal


1. Select the proposal to delete, and then click the Delete Proposal icon.


3. Click OK at the prompt to remove the proposal. This cannot be undone.