When using the Salesforce connector to submit opportunities or requests from Salesforce to PMAPS, the Salesforce user selects an invalid PMAPS file type (e.g., Outlook message .msg). This file type cannot be opened in PMAPS. PMAPS only permits Word, Excel, PowerPoint and PDF files.

Error Information and Screen Shots:

There is no error presented in Salesforce. There is no error presented in PMAPS. The record in PMAPS (Dashboard) will display a blank document with a pencil icon instead of a Word, Excel, PowerPoint, or PDF icon.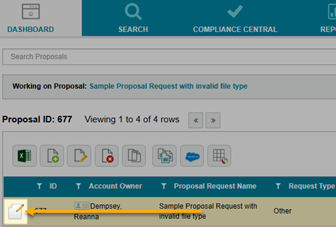 Resolution/Workaround:

Because users are unable to open non-PMAPS permitted document types, only a RocketDocs technical rep will be able to replace this file with one that is. To request, this have your Single Point of Contact (SPOC) for PMAPS at your company submit a support ticket. Our technical rep will replace this file with a Word document. You will then be able to replace that with any PMAPS permitted file type.