Problem:

If a user is trying to view or edit documents in the system, and receives an error (407) Proxy Authentication Required, it means that your company uses proxy servers to connect you to the Internet and the authentication to the proxy server(s) fails. Both the web application and the Viewer require the same secure connection.

Use the default proxy configuration available through the browser:

1. Open the PMAPS viewer.

2. Right-mouse click the "RocketDocs" logo and select Settings.

3. Enter the letters "IE" in the Proxy field (this will attempt to use the local IE proxy settings), and then click Save. Close and open the viewer(as required to make these changes permanent). Repeat the command that caused the error. If the error persists, proceed to the next step.

Hard code the proxy address:

1. Enter the company's hard-coded proxy address in the Proxy field. The format should be:
http://proxyname.com:portnumber
. Repeat the command that caused the error. If the error reported is an authentication or credentialing error change the Proxy Default Credentials field to True. Change the Use NT Authentication field to True if authenticating the proxy with the user's active directory credentials.
Diagnose the proxy issue:

We developed a proxy test application to help your IT troubleshoot or diagnose a server proxy issue. To use this test application, follow the steps below.

2. Install the application using Microsoft ClickOnce technology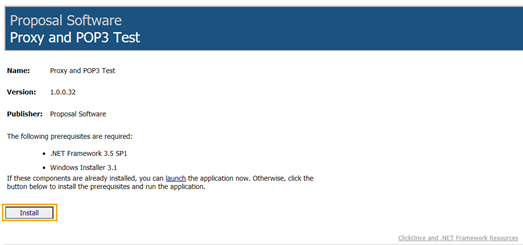 3. Enter your PMAPS URL in the WebPro Site field.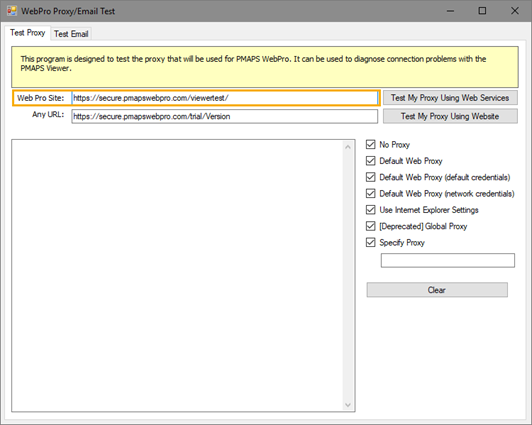 4. Click the Test My Proxy Using Web Services button (leave all boxes checked).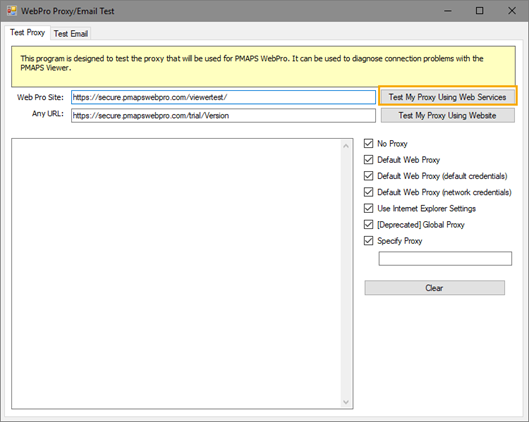 Your network team can use the results to properly configure your proxy authentication.