After adding reviewer comments to my document in PMAPS, they show my name as the author. But, when I click Save to PMAPS, this immediately changes to "Author".

Error Information and Screen Shots:

There is no error message, the document simply automatically removes my name and replaces it with "Author".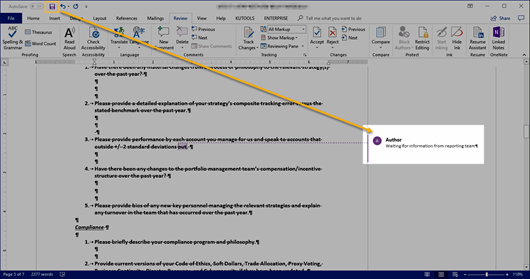 Resolution/Workaround:

This issue is document specific and is only an issue for documents that were created in an earlier version of Office to remove personal information from the document on save.

To make changes to the document, you'll need to save a copy out of PMAPS remove this option (uncheck) and then overwrite the document in PMAPS with the new one. You won't be able to access the Word Options menu while in PMAPS using the viewer. Follow the steps below:

1. Go to File menu and choose Options.

2. Click on Trust Center from the left.

3. Click on Privacy Options from the left.

4. Uncheck the box "Remove personal information from file properties on save".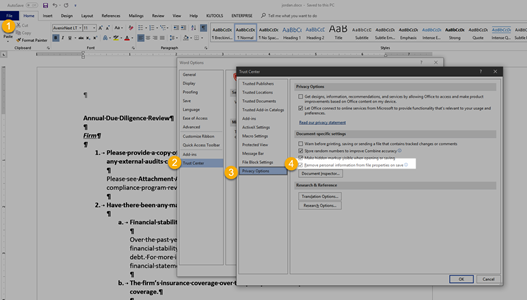 5. Click OK, and then OK again to close the options window.

6. Save and close the document.

7. Open the document in PMAPS.

8. Click the Overwrite button.

9. Browse to select the document you just saved, select it, and click Open.

Once this option is disabled, you can proceed with using comments normally and upon save they will remain.