1. From the main menu, click Content.


2. Select any record from the results window that does not say "Compliance has been requested on this document".


3. From the Open menu, select Edit Document.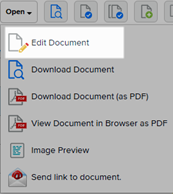 4. Make edits to the record's contents, and then click the Save icon. Close the record's document.


5. Click on the Attributes tab.


6. Make appropriate attribute changes, and then click Save.